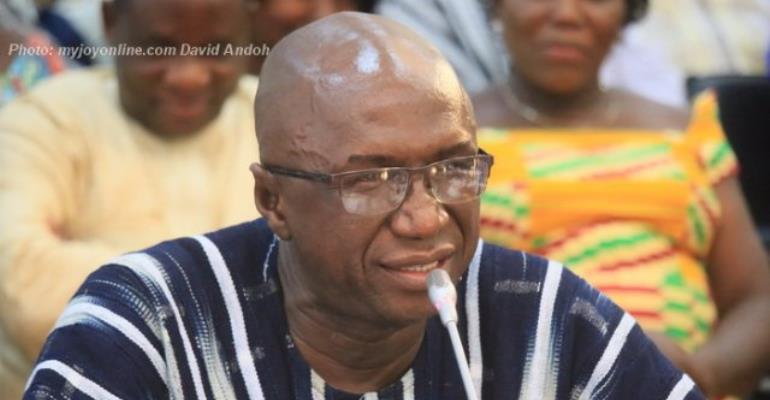 The Interior Minister and the police hierarchy have in concert condemned a brutal assault of a nursing mother by a police man at the Midland Savings and loans.
The Interior Minister Ambrose Dery has described the video as "wicked" and "barbaric" and wants justice to be served.
The police director of communications ACP David Eklu told Joy News the IGP and the entire police administration are outraged by the "highest level of unprofessional conduct by the police."
According to him, having watched the incident some few minutes ago, the IGP has instructed that the officer in the video be identified, arrested and prosecuted.
Frederick Amanor Skalla has since been arrested and is behind bars.
"This is not how police officers have been trained," ACP Eklu said, adding, the severest punishment and criminal prosecution will be meted out to him.
Frederick Amanor Skalla was asked by officials of Midland Savings and Loan to show the nursing mother with her baby to the door for demanding her money but the policeman decided to do in a brutish way.
Starting with an umbrella, the policeman hit the woman and her baby several times in the head before he started slapping and punching her.
Not even the tears of the weeping child and the woman will stop the policeman from continuing with his assault.
He pummeled the lady and threw him out of the banking hall.
Initial reports suggested the woman, whose identity is yet to be made public had gone to the banking hall late to withdraw her money and was told to go and come the following day but she resisted leading to the assault.
However, unconfirmed reports also suggested the woman, had all along been in the banking hall to withdraw her money because of reports the bank was in some crisis.
She swore not to leave until her money was paid but she was forced out in the most brutal manner.
Officials of the Savings and Loans company have since apologized for the incident and have promised to investigate the matter.
Story by Ghana|Myjoyonline.com|Nathan Gadugah