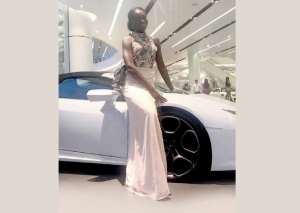 Miss World hopeful from Ghana, Afua Asieduwaa Akrofi, could not hide her enthusiasm for fast and luxury cars, as she says she wishes to own and drive one in future.
The Miss Ghana ambassador's revelation comes on the heels of her recent visit to AKN Car Museum in China, one of the world's homes for luxury and fast cars.
She was at the museum together with other Miss World contestants as part of activities ahead of the Miss World grand finale on November 18.
An obvious happy-looking Afua shared a photo of herself posing with one of the cars at the museum on social media with an accompanying caption that suggests she has mad love for those types of cars.
"All about last night. Don't you love my new ride from AKN Cars Museum in the future," she said and laughed out loud.
Afua Asieduwaa Akrofi hopes to make her country proud at the ongoing Miss World pageant in China by winning.
Meanwhile, she needs extra support on social media via voting by the public to help her progress in the contest.
The pageant now has a new format, giving greater emphasis on social media and interactivity. This new format is called the 'Head-To-Head Challenge', which will select 20 out of the top 40 contestants.
Voting will end November 15, and Ghana still needs more public votes to help lead the social media segment.
Currently, Ghana is not in a very good position to lead that segment and Afua is still calling for more votes.
"So most kindly vote and get others to vote," she often says in her Instagram posting.
One can, thus, vote by visiting  www.missworld.com  and look for Miss World 2017 contestants. Then click on sign up link/button to Miss World website (at the top right corner of that page).
Then LOGIN by putting in your email and password on that page and vote.