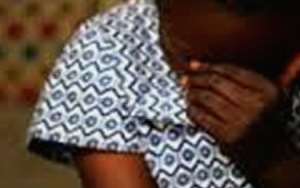 An investigative committee report on alleged sexual abuse at Ejisuman Senior High School could contain damning revelations on how some female students were sexually abused.
Over 10 students said they told the committee they were forced by some of the teachers to stroke their manhood until they ejaculate as punishment.
Others spoke about how they demand sex and being forced to have sex with their teachers.
Luv News correspondent, Erastus Asare Donkor, who spoke to some of the students was told even some of the non-teaching staff were involved in the demand for sex.
Reliable sources tell Luv News the seven-member committee has finished its work and is set to submit its report to the Ghana Education Service (GES) next week.
The Service has directed the Ashanti Regional Directorate to investigate allegations of mass sexual abuse of students at Ejisuman Senior High School.
Some parents are calling for the transfer of teachers at the Ashanti Region school following reports that some of them constantly harass students for sex in exchange for good grades.
Related: GES begins probe into allegations of mass sexual abuse at Ejisuman SHS
But some witnesses who appeared before the investigative committee narrated explicit accounts.
"He took my hands and placed it on his trousers and I removed it. He told me I am not a kid and I know what message he is trying to send across, but I told him I did not understand him.," one of the students claimed to have told the committee about her teacher.
She said when she was not giving him, the teacher went ahead to remove his manhood from his boxers and placed it in her hands.
"At that time, we were in traffic [in town] so I told him I could not do what he wanted [stroking his manhood]. He said I should take his manhood into my mouth but I refused," she disclosed.
According to her, he then instructed her to stroke his manhood until he ejaculated.
Another student revealed to the committee how she claims to have resisted sexual intercourse with an accountant of the school who had driven her to a hotel during school hours.
"He asked me why I was refusing to have sex with him, and I told him I just couldn't do it," she said.
Some of the students alleged they have suffered some level of victimisation from teachers after coming before the committee.
A student said she was slapped from behind by a Social Studies teacher on grounds she wore un-prescribed footwear.
Others say the relationship between them and their teachers has turned frosty.
"My housemistress said if I fall sick, she will not let anyone take me to the hospital, she will let me stay in the room and die," she said.
School authorities will not speak to the allegations until they see the report of the committee.
Listen to them: