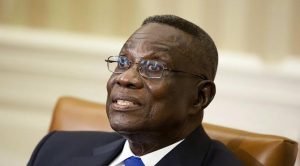 A group calling itself Critical Thinkers International (CTI) says the executives of the National Democratic Congress (NDC) must investigate circumstances surrounding the death of former President Prof John Atta Mills instead of the party's 2016 electoral defeat.
The move by the NDC is rather unnecessary, waste of money and time because even a two-year-old baby can easily tell the reasons for the party's defeat in the December polls, according to CTI.
The NDC recently established a 13-member fact finding committee, chaired by former Minister of Finance and current Chairman of the National Development Planning Commission (NDPC), Professor Kwesi Botchway to investigate the cause (s) of the party's abysmal defeat in the 2016 general elections.
A statement issued in Accra by the party said, "The Functional Executive Committee of the NDC, with the approval of the Council of Elders, has established a 13-member committee to investigate the cause(s) of the party's abysmal loss to the NPP in the 2016 general elections and recommend the way forward."
According to the NDC, the committee is expected to interact with the rank and file of the party and solicit views from members of the party across the country for the restructure of the party.
But the CTI insists the death of the former president, an issue the NDC has ignored, is also worthy of investigation.
In a statement issued in Accra yesterday, titled "why an investigation into the NDC's defeat but not Mills' death?" Adiepena Mirekua Sarpong, spokesperson for the group said, "CTI feels that something of importance which needs to be tackled urgently by the NDC should be the death of the late President Professor Atta Mills."
He claimed for the past four years, Ghanaians have been calling for an investigation into the death of the late President Mills but to no avail, insisting "Ghana lost a very prominent person who was the President and also the flagbearer of the NDC under very strange and absurd circumstances."
"So for the NDC to set up a committee to probe their defeat which is known by all, and not the mysterious death of the late President especially considering the controversy surrounding his death means the NDC truly has something to hide from the family of the late President and Ghanaians as a whole."
Sarpong continued: "If a mad man even gets the chance to have his death investigated, then CTI will plead with the President-elect to honour the memory of our late President by investigating the cause of his death immediately he forms the next government since the NDC has continuously shown no interest in doing so."
By Jeffrey De-Graft Johnson
jeffdegraft44@yahoo.com