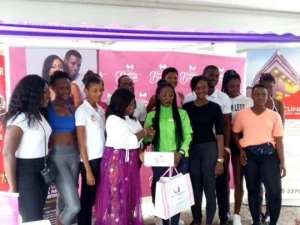 Mrs Juliet Gyamfi, Chief Executive Officer (CEO) of Beautiful Beneath, has stated that the company would support the millennium marathon by taking 20 percentage off any sportswear bought by athletes for the main marathon.
At a press conference held at the company's premises in Accra, Mrs Gyamfi said the company wants to create impact through the support for the Millennium Marathon.
'We believe that one can also look beautiful beneath when they are good physically hence the decision to support this year's marathon. Also, Beautiful Beneath wants to use this opportunity to talk to participants and the general public on the importance of choosing the gym wear for their workouts because it plays a significant role in the final output.
'We focus on the type of fabric used for designing the apparel against the purpose to make sure it is skin-friendly and it will improve performance.'
She commended the organizers of the Millennium Marathon for giving the outfit the platform to educate the public on the importance of wearing the right gym wear to keep fit.
Beautiful Beneath is one of Ghana's premier lingerie, sportswear, swimwear and sleepwear shop that has keen interest in activities that enable one to keep fit and stay healthy.
Mrs Gyamfi is a certified bra expert, lingerie connoisseur who has worked in one of the highly recognized lingerie and sportswear firms in the United States.
This year's Millennium Marathon will witness the winner walking home with the sum of 2,500 dollars while the winner for the junior gets 500 dollars.
Managing Partner of the Millennium Marathon, Mrs Catherine Morton emphasized that this year's marathon promises to be more competitive and would witness athletes from Africa and Europe competing for the glory.
The main event billed for Saturday, September 22 will see a sports fashion show, health summit, food exploration and a health fair.