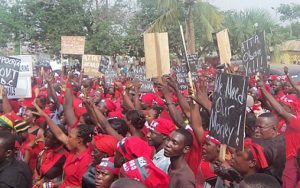 Students of two Colleges of Education in the Central Region on Thursday staged a demonstration to push government to pay the salary arrears of their striking teachers so they return to the classrooms.
Teachers of the colleges across the country have for the past two weeks refused to teach trainees to protest government's reluctance to pay them their salary arrears and resolve other issues of conditions of service.
Though government, represented by the Ministry of Finance, urged the teachers to return to the classrooms as processes are underway to pay them their salary arrears and resolveother matters, but the teachers turned down the request.
strike continues But teachers, who form the Colleges of Education Teachers Association of Ghana (CETAG), have demanded that government officially states in clear terms, the payment date for the arrears.
The teachers proposed the end of November 2017 as the payment date. The current strike has affected academic work and the students fear it would negatively impact on them, something that pushed them to join their teachers in demanding that government resolves all issues at the centre of the strike.
Wearing red bands, students of the Ola College of Education and the Fosu College of Education hit the streets Thursday, our correspondents reported. Thomas Vincent Cann reported from Cape Coast that the students appealed to government resolve the salary and arrears owed their teachers for them to return to the class room.
They said they have been in school without lessons for the about two weeks a situation that they say has been worrying.
Deputy SRC President of Ola College of Education, Marian Fynn said: "It is unfortunate that, the budget that was presented to parliament didn't include the concerns of our," adding "we are wondering when they will have the issue resolved for them to come to the classroom".
He said they have exams to write, noting "we can't do all the studies on our own to pass the exams so government should please hear our plea and get us our teachers back for us" From Fosu, Kwame Kakraba reported that the SRC President of Fosu College of Education, Prince Attuah Akonner said the teachers refusal to teach them was seriously affecting them.
"We are so disappointed in this government," he said, noting that the 2018 Budget presented to Parliament Wednesday failed to touch on the issue of their teachers.