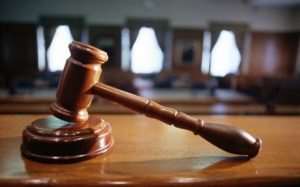 A Television Programmer of Zion Television (ZTV) has been put before an Accra Circuit Court over claims that she dishonestly appropriated GH¢120,000 belonging to her employer, Nii Tetteh Opremere II.
Irene Akoto Ofori has been granted a GH¢120,000 bail with four sureties.
She denied the charge and will make her next appearance on July 30.
Police Chief Inspector Emmanuel Haligah told the Court presided over by Mrs. Jane Harriet Akweley Quaye that Nii Opremere II, Chief of Shiashie is the prosecution witness and the owner of ZTV.
He is a resident of La Tse Addo whereas Irene lives at Ogbodzo, all suburbs of Accra.
The prosecution said in October 2016, Nii Opremere II engaged the accused, who claimed to be an expert in TV Programming to assist in uplifting the image of the station and later became the head of the station.
He explained that since ZTV has been transmitting on satellite and the owner wanted it to go digital to expand its audience base; he decided to acquire a digital license.
Nii Opremere II discussed his intention with the station's former General Manager, Mr. Badu Andoh), Head of Production, Mr. Eugene Kpakpo Addo and one Basile Awagbe, all witnesses in the case.
Chief Inspector Haligah explained that they met one Reverend Dr. Biney, an engineer who promised to help acquire the digital license at GH¢180,000.
The accused, on her assumption of office, was also informed about the development and she claimed to know the said engineer, saying he was the right person for the job if only the money were given him.
The prosecution said the owner of ZTV raised GH¢180,000 and gave it to Irene to be given to Rev Biney to enable him to carry out the job but she failed to do so and deposited the money into her account.
In January this year, the Chief, not seeing any improvement, questioned the accused about the delay and she told him government had put an embargo on the issuance of the license.
He then asked for the receipt or slip covering the payment of the money into Rev Biney's bank account, but Irene was not able to produce it. Thus, the Chief became suspicious and reported the case to the police which led to her arrest.
The Prosecution said Irene initially insisted paying the money into the bank account of Rev Biney but later said she distributed $28,000, $9,000 and $4,500 to Rev Biney, Kpakpo, and Awagbe, respectively but they all denied this.
Further investigation revealed that the accused paid $15,000, equivalent to GH¢60,000 to Rev Biney which was used to prepare a comprehensive document for the TV station while she kept the GH¢120,000.00.
She was later processed and put before the Court.