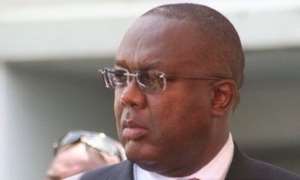 Ghana's former High Commissioner to the UK, Victor Smith, has petitioned the Office of the Special Prosecutor to investigate recurring allegations of corruption against members of the legislature.
According to Ambassador Smith, the allegations against the Parliamentarians is causing him to believe that "bribery and corruption, which has become so pervasive in our society has also reared its ugly head in our Parliament."
In the petition, published below, the former Aide to former President John Rawlings, pleads with the Office of the Special Prosecutor to thoroughly "to ascertain whether or not this perception and or allegations against our Parliament has any basis, in order to protect the image and good name of Ghana."
He cited previous comments made Second Deputy Speaker, Alban Bagbin, and another by Special Prosecutor, Martin Amidu, as plausible justification to investigate MPs.
Read Victor Smith's full petition below.
PETITION TO INVESTIGATE PERCEPTIONS AND ALLEGATIONS OF BRIBERY AND CORRUPTION IN PARLIAMENT
Recent comments by prominent Ghanaians:
"MPs take bribes" – Alban Bagbin
"Commission of enquiry must investigate MPs bribery scandal" – Martin Amidu
I wish to petition your office to help clear once and for all, this lingering perception that encourages people to make damning allegations against our august house of representatives – The Parliament of the Republic of Ghana.
The Member of Parliament (MP) for Nadowli/Kaleo, and now 2nd deputy Speaker, Hon Alban S.K. Bagbin, not too long ago confirmed that some Members of Parliament (MPs) take bribes to articulate the views of some individuals and organisations on the floor of Parliament.
We are told a Parliamentary committee supposedly investigated Hon Bagbin's famous statement that "MPs take bribes" but many Ghanaians are still talking about this bribery perception or allegation, that our MPs, either individually or as committees, have been demanding and receiving cash for various favours they do for the public, especially businessmen,
On a more recent occasion, anti-corruption campaigner, Martin Amidu, now Special Prosecutor, called on the President, Nana Addo Dankwa Akufo-Addo, to set up a commission of enquiry to investigate the bribery scandal that hit Parliament in 2017, but sadly the President did not heed the advice.
According to Martin Amidu, it was wrong for Parliament to investigate the matter especially when some members of Parliament were complicit in the matter.