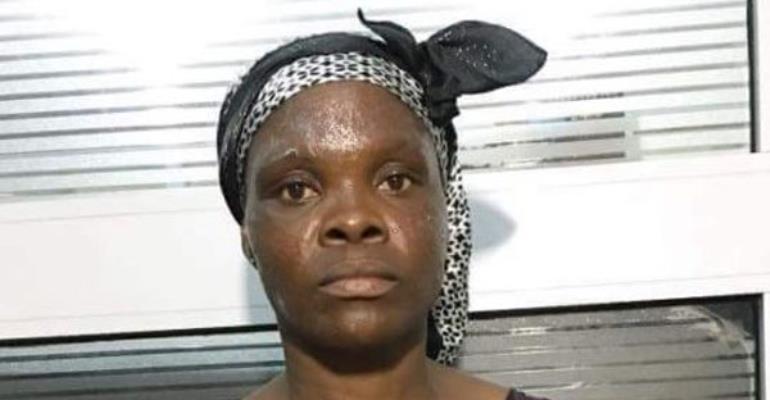 Many individuals and corporate institutions have made donations to Patience Osafo, the 36-year-old trader, who was brutally assaulted by a policeman at the Shiashie branch of Midlands Savings And Loans Ltd last Friday.
Narrating her ordeal in an interview with UTV, Ms Osafo, a mother of three, said, "I went to the Midland Savings and Loans branch at Shiashie last week to withdraw part of my savings with them to enable me to buy baby food for my grandchild, but the bank told me that the network was down and asked me to come the following Monday."
"I got there at 7:30 am and decided to wait up until 4pm, because I needed the money desperately to buy food for my grandchild, pay for a GH¢30 loan I took from someone who paid for my child's exam fees."
"Few minutes later, they asked us to leave the premises but I pleaded with them to give me the money since that was all I had for the weekend, but the police officer was called to send me out which I resisted, leading to the brutal attack on me."
The attack on the woman has angered many Ghanaians who are making donations to the woman to show solidarity with her.
The Despite Group Of Companies gave her cash of GH¢7,000, out of which GH¢2,000 is to cater for her medical bills while GH¢5,000 is to cater for her family.
Dr. Adu Frimpong of End Point Homeopathic Clinic, Dr Kwaku Afriyie, the Western Regional Minister and Collins Owusu Amankwah, Member of Parliament (MP) for Manhyia North, donated GH¢1,000 each to the victim.
National Women's Organizer for the ruling New Patriotic Party (NPP) Kate Gyamfuah, who has also joined the list benevolent donors, donated bags of rice, diapers and other domestic items, as well as cash of GH¢5,000.
Patience Osafo, who fought gallantly to withdraw GH¢250 out of GH¢270 last week, today has over GH¢10,000.
Other individuals and corporate bodies are preparing to make further donations.